Strata-titled duplexes:

Are you properly insured?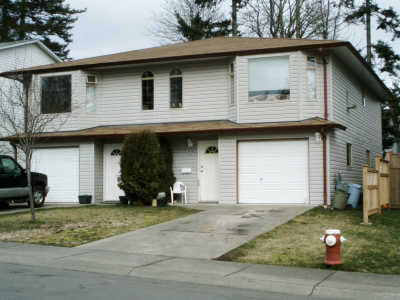 Owners of strata-titled duplexes and townhouses in British Columbia should be aware that this type of ownership places special conditions on your insurance requirements. Under the Standard Bylaws of the Strata Property Act of BC, owners of a strata-titled property of fewer than four units, or where a strata corporation has less than four owners, all owners form the de facto Strata Council.


Insurance is mandatory
Under Part 9 of the Strata Property Act of British Columbia, the Strata Corporation must obtain and maintain property insurance on the common property, common assets, buildings shown on the strata plan, and fixtures built or installed on a strata lot, if the fixtures are built or installed by the owner developer as part of the original construction on the strata lot.
"Fixtures" are defined under the Strata Property Regulations as items attached to a building, including floor and wall coverings and electrical and plumbing fixtures, but does not include, if they can be removed without damage to the building, refrigerators, stoves, dishwashers, microwaves, washers, dryers or other items. These definitions may be modified by the bylaws of the specific strata corporation.
Under the Act, the property insurance must be on the basis of full replacement value, and insure against major perils, as set out in the regulations, and any other perils specified in the bylaws. The Regulations stipulate that "major perils" means the perils of fire, lightning, smoke, windstorm, hail, explosion, water escape, strikes, riots or civil commotion, impact by aircraft and vehicles, vandalism and malicious acts.
The Regulations also stipulate that the strata corporation must obtain and maintain liability insurance for a minimum amount of $2,000,000.
What does this mean?
If you are an owner of a strata titled duplex in British Columbia, you require two insurance policies. The first is mandatory under the provincial legislation and must be a joint policy with the other owner(s) of the strata corporation. Insurance companies will likely write this as a commercial policy.
The second insurance policy you will require is a condo owner's policy. This insures you for non-building interests or improvements, as well as personal liability. Condo owners often assume that if the Strata Corporation or Condominium Association has insurance, they require nothing else. This is not true. Condo owners face special risks with regard to their property and liabilities with respect to their actions or actions of their tenants. You should talk to your insurance agent about the coverage available through a condo owner's policy and ensure that you are adequately protected in the event of a loss or liability claim.
Where you can learn more
Owners of BC strata property who require more information can obtain it directly from the BC Government web site at:

FICOM - Responsibilities | Strata Property
Your independent insurance broker can assist you with your insurance needs. Ask to speak with one, at no cost or obligation. And, don′t forget to ask about the discounts available when you insure both your home and auto with the same insurance company!
Home Insurance Quotes
Return to top of page